YOUR VILLA ALGARVE
Enjoy dream holidays
in a private villa in Portugal
Burgau, Algarve
West Portugal
beach 7 min by walk,
2 min by car
5 rooms, swimming pool, air condition
Perfect for group of friends or familes up to 11 people + 2 toddlers
Bars, restaurants, fresh food
10 – 15 beaches around,
partners for trips
Why Algarve
Walking on the beach, sand massaging your feet, worries leaving your head by help of fresh ocean breeze ..
Do you feel it yet? This is Algarve.
Your second home.
Great accommodation, best service! What else could you wish for :). We spent an unforgettable week with friends. Beautiful house, great service !!! Fish, sea food everywhere. Thank you very much Jana Cmuntová, Vítek Cmunt !!!
Best Holidays EVER! Thanks, Jani and Vitek.
The welcome package was very good! Haf
We were a family with 6 adults and 5 kids (inc 2x 2year olds) and the house was perfect for us. Over 3 levels it was spacious and gave enough privacy that we weren't on top of each other. The kids had everything they needed to keep them amused and despite the steps the stair gate made it safe for the little ones. Pool was small but big enough. All round brilliant stay and we will go back.
One of the most beautiful vacations. Wonderful place just few minutes away from the sea. Accommodation absolutely perfect. Beautiful modern equipped villa with private pool on the terrace ideal for romantic evenings with wine and local delicacies at prices better than good 😊 The owners of the villa are very nice, helpful and on their recommendation we have seen many beautiful places in the area. For children paradise. Awesome !!! 😍
Excellent .. It is a beautiful house, with all details you can imagine. There's nothing missing. You feel at home. It's a perfect option for traveling with groups and as a family. Jana and her husband were very friendly and attentive. The perfect location, quiet and easily accessible. We hope to return very soon.
Burgau is perfect – great accommodation, stunningly clean sea, coffee places to work at, internet and English everywhere.
There are plenty of options for trips and sports – we especially enjoyed jogging, playing tennis and pub football in June .D. We'll come again!
Discover
Villa & rooms
You can reach the beach in 7 minutes on foot, in 2 minutes by car.
You can refresh yourself in the pool at the back of the villa.
You can grill some fresh meat from the local markets and relax on the terrace in the evening.
Your private villa in Algarve
Are you fed up with crowded hotels with noisy guests?
Enjoy your holidays at ease and on your own!
A private villa on the Atlantic coast is perfect for you:
3 bathrooms
5 bedrooms
4 doubles bedrooms
1 children's room
For rent from
179 euro / night
Beach and center "around the corner"
Take a walk through picturesque streets and rest in one of the restaurants .
After a light lunch, it's a short walk to a beach or cliffs with incredible views.
600m to the center of Burgau
fresh fish from fishermen
restaurants, bars
small and long beaches
Something to eat? Step inside the kitchen
You'll find everything you need in the kitchen. You don't have to waste your time washing dishes, there is a dishwasher . And in the morning, coffee machine will come in handy.
goodies welcome pack
kitchen equipment
dining room
Make yourself comfortable in the living room
Do you need to take a break from the sun? Just lie down on the sofa and enjoy a quiet evening with a movie.
TV MEO – million programs in English and Portuguese
YouTube
WiFi
straight way to the pool
Pool and BBQ
Grill fresh fish and enjoy the privacy of your own pool.
privacy
grill & accessories
Bedroom for a royal slumber
Part of a holiday break is undoubtedly a good night's sleep. We have invested in your sleeping comfort. Tall beds are waiting for you in each bedroom.
25 cm mattress
tailor-made production
suitable for people with orthopedic problems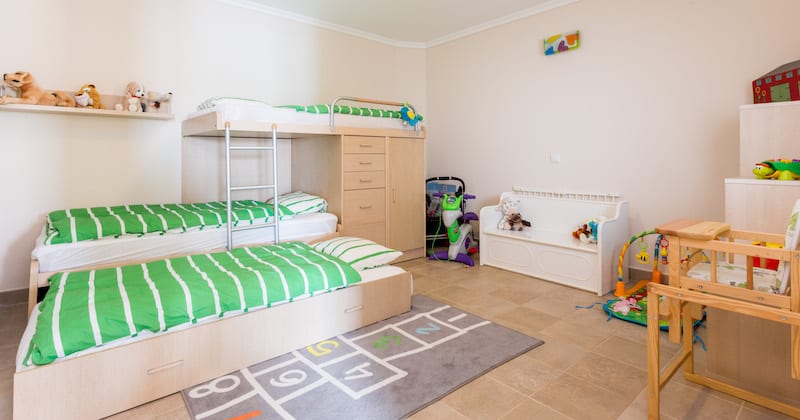 Children's Room – their world
The room for children is full of toys for different ages. The sockets are secure, and the toys are completely safe.
WiFi
Have uninterrupted Internet access. WiFi is not only suitable for digital nomads.
Swimming pool
For those who don't have to keep splashing in the ocean, we have a refreshing 2.7 x 5 m swimming pool with fresh water right in the villa!
Basic equipment
Towels, linen, soap and toilet paper, hairdryer – just everything for your comfort. For the little ones there are cots, chairs and dishes.
Whirlpool
Get into the bubbles and be pampered. Villa Algarve is one of the few places in the area with its own spa bath.
Parking
Park comfortably in front of the villa or anywhere on the street.
Air condition
Especially in high season Burgau can be very hot. Relax in the shade after a day in the sun.
Informace k používání myčky na nádobí, krbu, kávovaru, topení, TV a počítače, pračky, grilu, vaření v kuchyni a vše pro děti se dočtete na hlavní webu yourvillaalgarve.com na ploše vašeho počítače.
There are many things you can do on a holidays in Portugal, but don't waste your time washing dishes. That's where you get your dishwasher.
Who would not want to experience romance at the crackling fire. Bring the right atmosphere and murmur with your half on a blanket in front of the fireplace.
What a vacation without quality morning coffee would that be.
Have you visited the Algarve outside the summer season? Warm up during chilly evenings with air conditioning (heating mode) or electric heater. Warm water all year round.
Do you work on the go? Then you will appreciate the workplace for a laptop and a comfortable chair. In the meantime, let the children watch a fairy tale on TV.
Did you get dirty on your trip or just run out of clean linen? Wash it in the villa (free or for a fee).
Entertain your kids on holidays can give you a hard time. Therefore, you will find children's books and toys in the villa. If children are still sleeping during the day, pull the curtains or blinds. Secure the corners of the tables with covers – we have them available.
There is a built-in grill next to the pool. So do not hesitate, go to the local markets for fresh meat and start a proper BBQ! There is of course a fire extinguisher in the villa.
The kitchen includes a fridge, stove and basic cooking utensils, pots, pans, and ingredients oil, salt and pepper. There is a microwave or a classic oven for heating.
Check-in & Check-out
Check-in at any time
after 3pm
.
Need earlier? Please contact us and we will arrange it.
Check-out is until 10:00 at the latest.
If possible, we'll let you sleep in (on request).
Cancellation policy
We require 30% of the price (non-refundable) to complete the reservation. The rest is paid by bank transfer or cash on site. It is payable at check-in at the latest.
Villa rules
Our dear guests,
we're excited that you decided to spend your free time in our villa.
To enjoy it and preserve the villa, please follow 15 simple rules:
House rules
1. WE DO NOT SMOKE IN THE VILLA AND WE DO NOT MAKE A FIRE IN THE HOUSE
– fine of 300 euros
2. PARTIES WITH COMMON SENSE – please respect the peace of the neighbors, keep calm after 22h
3. WE ARE NOT LOOKING INTO EACH OTHER'S STUFF – the dressing room marked PRIVATE! is private. End of story.
4. ONLY TOILET PAPER INTO THE PLACE – do not throw female
sanitary articles, baby wipes or diapers into the toilet
5. WE HAVE TOWELS, BUT ONLY FOR HOME USE – you don't have to bring your own towels, but take your own blankets to the beach
6. WE SAVE NATURE – there is air conditioning in your villa for your convenience,
if you don't need it, please, switch it off
7. LET THE WIND TO THE KITCHEN – hot water is provided by a gas boiler. For proper operation, it needs air. Therefore, if you are using hot water, open the window in the kitchen
8. WE DO NOT DAMAGE EQUIPMENT – impurities, damage or loss of any of the villa's equipment is fined up to 500 euros. Report damage immediately. Use all equipment only in the villa. Do not move furniture. Do not use your own appliances (except those for hygiene)
9. WINDOWS – when you leave the villa, please close the windows
10. WE HAVE CLEANERS OF ALL KINDS AND WE KEEP THE ENVIRONMENT CLEAN – you can find all cleaning stuff in the kitchen under the sink. Broom, toilet paper and cloth are in the closet
11. SAVING NATURE VOL.2 – we recycle paper, glass, metals and plastics (metals and plastics recycle together). Recycling bins can be found at the entrance in front of the villa
12. WHEN WE MAKE A FIRE, WE MAKE SURE THERE IS ENOUGH AIR IN THE LIVING ROOM – it's about the boiler again; if you use the fireplace, make sure there is enough air in the villa for the stove to function properly
13. WHAT ABOUT THE SWIMMING POOL – Mr. Vitór cleans the pool every Wednesday. Do not turn on the heater, it's broken
14. WE'RE NOT RIDING TO THE TERRACE WITH A CAR – no comment 🙂
15. NO WEAPONS, NO DRUGS – otherwise you will be asked to leave the villa immediately
Thank you for respecting the Villa Algarve rules and we wish you great holidays!
Sports & Trips
What you can do
in Algarve
Take a trip
Everyone finds something in the Algarve.
For example, explore the local history , discover the picturesque corners of Portuguese cities , or be charmed by nature not only in national parks.
Put in your body
Do you have enough of beach and pool rolling and wish to move your body? Try your favorite sports in the Algarve. From quiet golf through tennis to adrenaline surfing .
Discover beaches
The south and west of Portugal offer almost infinity of beautiful beaches with a clear blue ocean. Enjoy the beauty of nature without thousands of tourists .
Peak Season
Summer holidays
The peak season starts in July and ends with the last August day
The high season is

 

June

and

 

September
Middle Season
MIddle season
Perfect time for 

sports

 

in October and May
Out of season is 

November 

and 

April 
Off Season
Winter and spring
From the beginning of December until the end of March we have a winter and spring season in Burgau
Do you wish to book a private villa?
Get in touch and it's a date
holidays@yourvillaalgarve.com
Rua do recanto, lote 8, Montinhos de Burgau, Luz, Lagos, 8600-120